A journey of more than 5 years of transformation has brought Smart Design Labs (SDLs) from a start-up to an influential business in the 3D field in Vietnam. SDLs is honored to become a partner of many major brands in the world from Europe to Asia. As for 3D scanning, Smart Design Labs collaborated with Thunk3D and became the official distributor of Thunk3D 3D scanner in Vietnam. Today, invite you to 3DShop Vietnam to explore the interesting things about the brand Thunk3D in this post.
1. Introduction to brand Thunk3D
Thunk3D was established in 2008 as a professional 3D scanning equipment manufacturer and involved in the 3D scanning industry. With its imaging lab and efficient R&D team, Thunk3D has got 4 software patents and released the desktop SL scanner, handheld IR scanner, foot scanner, industrial SL 3D scanner, laser scanner. and handheld SL scanner. Thunk3D 3D scanners are CE, FCC, WEEE, CNAS, highly reputed. The machine is preferred in educational, dental, research, artistic and industrial scanning.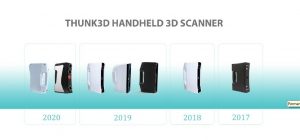 After 10 years of development, Thunk3D focuses on simplifying functions and expanding according to the requirements of users. So far, Thunk3D Cooper and Thunk3D Fisher have become the representatives of two lines of desktop scanners and handheld scanners. This shows the enthusiasm and qualifications of Thunk3D's engineering team. Thunk3D 3D scanner products can meet up to 70% of market demand with the overwhelming price advantage.
Thunk3D publishes a strategic research vision for customizing a high standard scanning system. Make consumer 3d scanner more portable and convenient. Thunk3D always carries everything original. All designs are aimed at users.
Thunk3D 3D scanner products are marketed through a network of international dealers. In which, Smart Design Labs is the official distributor of Thunk 3D in Vietnam.
2. What are the features of the Thunk3D 3D scanner?
The Thunk3D scanner uses structured light technology, which alerts you when you lose tracking, so you don't worry about operating distance.
The machine can align Feature and Marker to suit large objects from 5 to 500cm. Besides, the machine can also scan objects 2-4cm with lower resolution.
The machine owns 2 scanning modes Standard and Fine, the scanning process is completely flexible. Customers do not need additional accessories, the scanning software is free to use to export completely sealed data.
Frames are aligned automatically by the scanner in real time. The machine can completely recover and scan quickly from the lost track.
The accuracy of the Thunk3D 3D scanner can be up to 0.04mm. Industrial machines, which can 3D scan cars, carvings, faces, human bodies, works of art, …
The Thunk3D 3D scanner has both a desktop and a handheld scanner suitable for a wide variety of purposes.
3. Thunk3D 3D scanner at Smart Design Labs
Smart Design Labs (SDLs) is currently the official distributor of 3D scanner Thunk3D products in Vietnam. Products are sold directly on the website 3DShop Vietnam. Let's take a look at some 3D Thunk3D scanners being distributed by SDLs:
Thunk3D Fisher S handheld 3D scanner
Thunk3D Universal Stationary Industrial 3D Scanner
Thunk3D Cooper desktop 3D scanner
Full Color Thunk3D 3D Scanner Archer W
Thunk3D Cooper M20 3d scanner
Thunk3D Fisher W 3D Scanner (50 * 40cm ROV)
Thunk3D X-Cannect 3D Scanner
Thunk3D 3D scanner
Buying 3D scanner Thunk3D at 3Dshop, customers will get a very good price incentive, in addition, we have a free 3D scan training policy for all customers who buy the machine and are ready to support 24/7. when customers need.
Contact us now to get a good deal:
Telephone: 024 7300 7070 | 083 4400 810 (Office hours)
👉 Zalo 24/7: 0358736772
📧 Email: contact@3dshop.com.vn
🌐 Website: https://3dshop.com.vn/
🏠 Address: 86 Le Trong Tan – Khuong Mai – Thanh Xuan – Hanoi